I'm Looking for My Spouse
We understand just how hard it can be to make the tough decisions. Rest assured, we are here to help. Whether your spouse needs assistance with daily activities such as bathing and dressing, or requires more specialized care due to a memory-related illness, we can help you navigate your options and decide what is the best fit for you and your spouse. We are here for you, every step of the journey.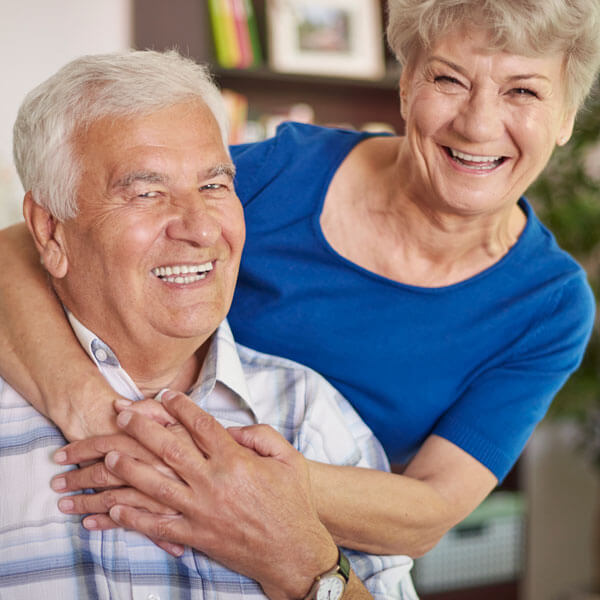 Your Title Goes Here
Your content goes here. Edit or remove this text inline or in the module Content settings. You can also style every aspect of this content in the module Design settings and even apply custom CSS to this text in the module Advanced settings.
Moving To a Senior Community: How to Get Ready When You're Not Ready!
Many older adults think about moving to a senior living community, or have had talks with their family members about moving, but often have the feeling that they are 'not ready.' At Ebenezer, we hear you. (We also hear "I don't know why I waited!" but that's another article.)
Just because you're not ready now, doesn't mean you can't work on getting things in order when or if you move. And even when you've taken care of the things below, it still doesn't mean you have to make a move. It's always best to be prepared.  So if you want to or have to make a move, you'll have the important pieces all ready to go.
Here are some ways that you can't get ready for senior living when you're not ready:
Visit Your Doctor: Hopefully, you are getting your regular check-ups with your primary physician, but if not, make an appointment. Have the doctor review your medication list to make sure the list is up to date and appropriate. Let him or her know that you are considering a move to senior living. If you end up needing to move to an assisted living setting, your doctor will have to sign off on orders. This can happen more quickly (and more smoothly) if you have recently seen your doctor and have had these discussions in person.
Research: You have 2 assignments here.

Research your senior living options. Think about where you want to live. In your home town?  Close to your kids? Tour a few communities and ask to come for lunch, and/or for your favorite activity to get a feel for what your life would be like if you lived there. Remember it's important to try the food. Talk to the other residents to get their perspective and what it was like for them to make the move and settle into their new home.
Research what your monthly and annual expenses are and get a good handle on what your monthly income and current assets are worth. When you start looking around at senior living communities, you might experience some sticker shock. But, when you take stock of all that is included (and what you are currently paying for utilities, home, and yard maintenance, groceries, home security, a life alert system, taxes, etc.) you will start to see the value.

Waiting Lists:

 

Depending on where you want to be, what type of apartment you want, and what service level you need (active 55+, senior living, assisted living, memory care or enhanced care) you may encounter long waiting lists. When you do your research and shop around, ask about waiting lists and get on a few of them. There's no guarantee something will be available for you when you are ready, but this gives you a little more priority and increases your odds of getting the apartment you want when you want or need it.
Paperwork: When you move to a senior living community and it comes time to sign a lease, you will likely need to identify a Power of Attorney and Health Care representative, and you may need to provide copies of the forms. Make sure you have quick access to your notarized Power of Attorney form and your Health Care Directive.
That's it! You may have noticed there is no 'to-do' item for the house. Even though getting the house ready, or needing to downsize, is a reason many people feel they're not ready for a move, a lot of times, when people make a transition, it's not because they've finished downsizing and their house is in perfect condition to sell. When you decide you're ready, you'll figure out quickly what to do with your house and your stuff. There are realtors and move managers who specialize in working with seniors who can make your move and the sale of your home a breeze!
We know it's not easy, and that's why we're here to help. Consider us a resource full of options to help you navigate different options available to you, even if it's not with one of our communities. 
The Dangers of Guilt and Denial
If you're a caregiving spouse, you've likely felt guilt and denial sometime along this journey. You may feel guilty because you're getting to the point where you can't do it all on your own anymore, and it can feel like you're letting down your spouse if you admit you need help. Or, you may be in denial of the situation, creating the false hope that the signs of aging you see will somehow reverse themselves, and your spouse will go back to his or her old self. It's only human to feel both of those emotions. But denying the situation or feeling guilty about it can actually be harmful for both you and your spouse. Here are some of the dangers of denial and guilt when caring for a loved one.
YOUR SPOUSE'S SAFETY
Admitting your spouse needs more care than you can provide is, at the heart of it, a matter of his or her safety. It is an act of love. Even with you there, your spouse is at risk for falls, missed medications, and a whole host of other dangers. If your spouse is still driving and shouldn't be, they're not only putting themselves at risk, they're a danger to other people, too. At Ebenezer, we understand that nobody wants their spouse to be at the stage where they need care, and because of that strong emotion, it's all too easy to deny the reality. Focusing on their safety and quality of life, knowing you're doing the right thing for them, helps people with both their denial and guilt.
YOUR MENTAL & PHYSICAL HEALTH
The effects of caregiver stress, like depression, weight gain or loss, sleep problems, not wanting to eat, sadness and fatigue are real, and can take a toll on your mental and physical health. But many caregivers are reluctant to admit they're experiencing it. In addition to the denial, realizing you simply can't do it on your own anymore can cause powerful feelings of guilt, which in turn can further eat you up. 
LEGAL ISSUES
Having the talk about power of attorney, advance directives, wills and final wishes can be difficult. It's easier to put off those tough conversations until another day. But without those legal documents, you can find yourself in an even tougher situation if your spouse becomes ill, needs more care than you can provide or passes away. Have that talk now. Get those important papers signed. Doing so before you need them takes one big worry off your shoulders.
CONFLICT WITH FAMILY
Denial can drive a wedge between family members at a time when you should be pulling together. If your children or other family members have realized your spouse needs more care than you can provide at home, but you're denying the reality, it can cause tensions to run high and potentially damage family relationships. That's the last thing you want or need. The same is true if the situation is reversed — you realize it's time to explore senior living options for your spouse, but your kids are in denial. Have a family meeting and talk honestly. Being on the same page is crucial.
At the end of the day, it's about what's best for your spouse. Acknowledging that you're doing the best you can, making decisions out of love, and wanting only the best quality of life for your spouse goes a long way toward assuaging those feelings. And wanting a life that's free from the stressors of constant caregiving is no shame, either.
At Ebenezer, we understand all of the feelings caregivers experience when their loved ones are beyond the point of being able to live safely at home. That's why we have set up support groups for caregivers throughout the Twin Cities for people to talk about those feelings, find kindred spirits and get advice. Just having someone with a sympathetic ear helps.
Informing yourself on all of the resources available to you is also an eye-opener. At Ebenezer, we provide a host of resources for caregivers, including Ebenezer Adult Day programs for older adults who live at home but could benefit from some care and socialization during the week, Stay by the Day options for when caregivers go out of town, help with advance care planning, and many more.
10 Tips for Preventing Caregiver Fatigue
If you are helping to care for a loved one, we  understand how physically, emotionally, and mentally draining that role can become.
We'd also like to reassure you that you're far from alone. The Pew Research Center reports that more than 40 million adults in North America provide unpaid care to elderly loved ones, and many of them also have significant daily responsibilities that transcend that care. More than one in 10 U.S. parents care for children as well as adults; in addition, those multigenerational caregivers spend an average 3 hours and 17 minutes a day on other work for which they're paid.
We're here to help. With over 100 years of experience providing quality care for older adults, we're experts in navigating the many challenges that can be part of the caregiver experience. While the role of caregiver can offer substantial rewards, it can also be demanding enough to strain the resources of even the most resilient person. And we recognize and honor the truth in the situation: If caregivers don't take care of themselves, they'll eventually become unable to care for anyone else.
In recognition of that, here are our suggestions for helping prevent caregiver fatigue even as you carry on with your labor of love.
Caring For The Caregiver
1. Ask Others for Help
Admitting you need assistance isn't a weakness. Communicate your needs to your siblings, spouse, children and friends and ask them to pitch in or provide care in shifts. They may be unaware of your stress. Consider support from our partners at Fairview Caregiver Assurance, which is a membership program that provides resources over the phone, in-person and online to aid caregivers in their journey.
2. Delegate Other Tasks
Do you need help with errands, housework, meal prep or other daily living tasks that are going undone? People in your life want to help out, but may not be suited to caregiving responsibilities. Making a meal or doing your laundry are perfect ways to let them take some of the load off of you.
3. Build in Relaxation Time
When spending time with your loved one, take frequent breaks. After hours, make sure to allot time for activities you find enjoyable and relaxing, such as massage appointments, naps, baths, walks in nature, yoga classes, salon visits and music sessions.
4. Monitor Your Own Health
Keep doctor and dentist appointments, and address any concerns. Work exercise into your daily routine. Eat nourishing foods. Get enough sleep so that you wake up refreshed.
5. Acknowledge Your Own Feelings
It's OK to admit to yourself that you feel sad, angry, frustrated, resentful, overburdened or scared. Consider journaling about your thoughts and emotions, or perhaps incorporate them into prayer or meditation.
6. Check in to Family Leave Benefits 
Your employer may offer paid or unpaid time off that can help give you more time to spend with, and care for, your loved one.
7. Find a Support Group
Talking openly to others who understand exactly what you're going through can be an enormous relief. We offer a number of Care Partner support groups for caregivers. Some meetings are topic focused, dealing with issues that affect caregivers. Others offer safe spaces to share thoughts and emotions with other caregivers, or just listen and take it all in.
8. Consider Respite Care
Several organizations can offer temporary care for your loved one when you need a break or wish to take a vacation. At Ebenezer Assisted Living Communities, we provide fully furnished Stay By the Day Apartments in which individuals are invited to stay for three to 30 days. Health support and personal support are customized to the person's needs, meals are included and care attendants are on-duty 24-7.
9. Accept that You're Not Superhuman
Admit to yourself you won't be able to make life idyllic for your loved one. No matter how hard you try, you can't control the decisions they make, halt the aging process or cure incurable diseases. Some days will go better than others, and on many days your best efforts will have to be enough.
10. Maintain your Sense of Humor
Remaining grave and serious all the time can be exhausting. Laughing with your loved one can break the tension when situations seem surreal or ridiculous. Taking care of your loved one may be one of the most important and rewarding tasks you'll ever undertake, but that doesn't mean it's easy in any way. If you're a caregiver, think of us as a trusted resource when it comes to senior care. Reach out for more information. 
Northern Lakes has been a Godsend for my parents. My mom needs the added care and my dad can stay with her. The aides, caregivers and staff are so kind, caring, and professional. They provide such good care. The facility itself is beautiful, clean, and well maintained. It feels homey. 

Kathy
Northern Lakes is taking extreme care at keeping my mother safe, comfortable, and entertained. They have found a way to make personal visits, to continue the exercise routines and having the residents work out at their doorway. My mom sits in her doorway and plays bingo with those on her floor for prizes.

MBW
Contact Northern Lakes Senior Living!
Address
8186 Excelsior Road
Baxter, MN 56425
Get In Touch With Us
Fill out this contact form or give Angelique a call at 218-454-2121 for more information or to schedule a tour!