Assisted Living &
Memory Care Activities
Daily opportunities to laugh, learn & conenct with others! We have a full-time life enriching team to facilitate the fun we have!
Assisted Living & Memory Care Activity Calendars
Activities At Northern Lakes Assisted Living & Memory Care
Northern Lakes Assisted Living & Memory Care provides a variety of regularly scheduled activities on and off-site including:

Outings on the fun bus
Live music & themed parties
Pet therapy
Monthly birthday celebrations
Happy Hour!
Resident Town Hall…let your voice be heard!
Movement classes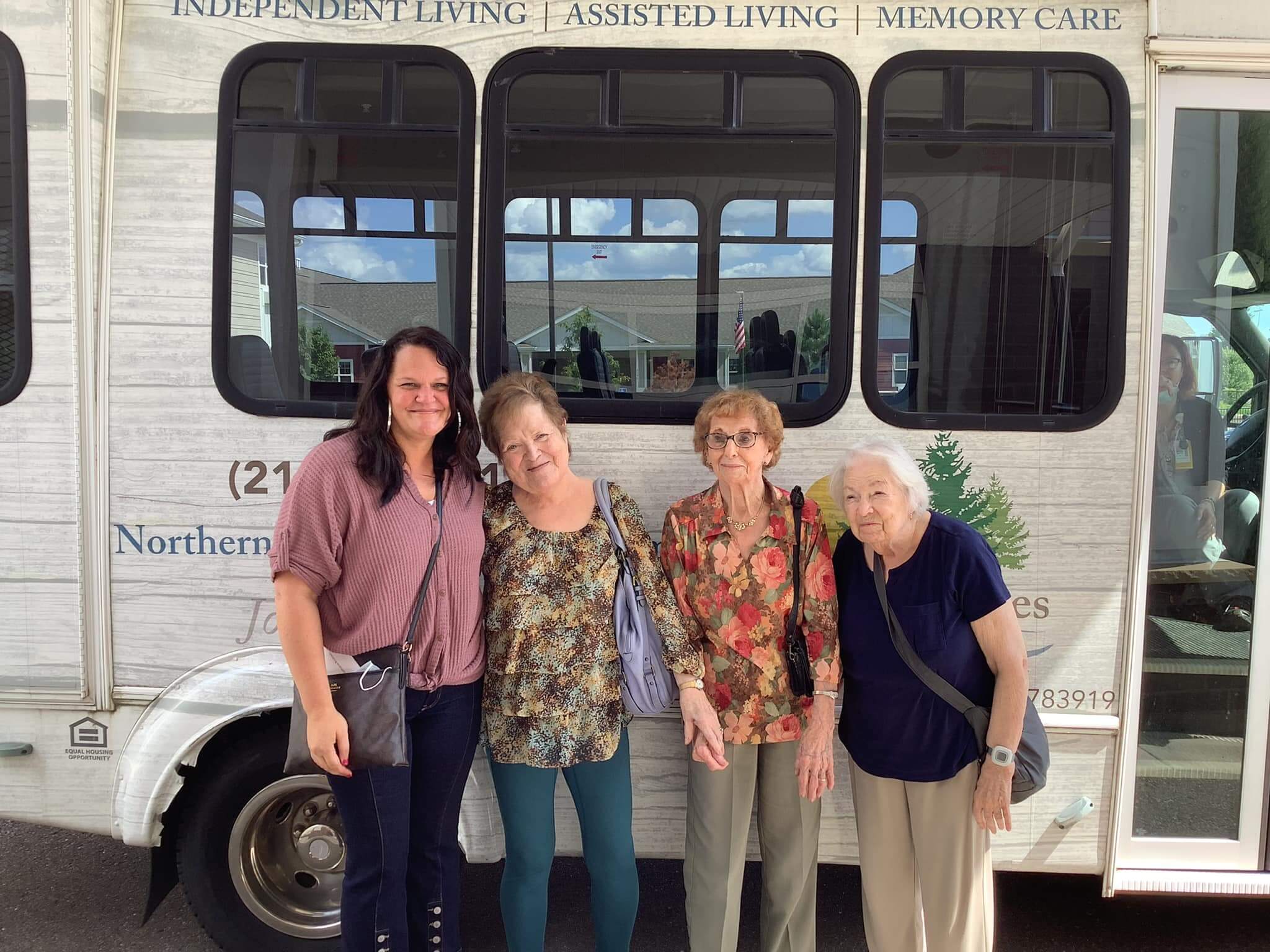 Experience adventure with friends on the fun bus!
Our outings include trips to the theater, concerts, local dining, sporting events, arboretums, museums, fishing spots and more. These activities are designed to enrich life, positively stimulate the senses and improve overall well-being. Going out and exploring the community can also help to reduce feelings of isolation and increase a sense of belonging.
Join us and discover the fun of going out and exploring the Brainerd Lakes Area.
Ebenezer (meaning Stone of Help) began as a faith-based community of Norwegian immigrants back in 1917. We are proud of that heritage. The founders looked to their Lutheran faith to advocate for the poor, the newly arrived immigrants and especially for the forgotten seniors in their midst.
We offer weekly spiritual services. We have built relationships with local Pastors, Fathers & Lay Ministers that serve the spiritual hearts of our residents through music, message, prayer & communion. We also encourage residents to offer their gifts to the spiritual vibrancy of our community; playing piano, verse reading, prayer and more.
We also offer planned trips on our activity van/fun bus to enjoy holiday services at local churches for those wanting a larger congregational experience, and trips to special celebration events in our Brainerd Lakes community.
Life Long Learning is the process of keeping your mind, body and spirit engaged — at any age — by actively pursuing knowledge and a new experience. Designed to help people learn and grow, our Life Long Learning is a collection of coordinated arts and education programs. 
Creative engagement: opportunity to imagine and to grow
Individual expression: sharing ideas in a safe and supportive environment
Community: working together to learn and to create
Legacy: sharing and passing on the work created
Research has shown that with opportunities for self-expression and discovery, people experience vibrant living, personal growth, as well as improved mental and physical health. Life Long Learning helps individuals stay connected to their world — it is an essential part of the Ebenezer experience at Northern Lakes.
Movement/Exercise & Wellness
Stretch and Balance: A daily class combining Matter of Balance curriculum with stretching to improve core strength & flexibility
Chair Yoga: A class led by Lakes Area Yoga Association certified instructor
Move with Ease: Adapted movement class inspired by the Arthritis Foundation's curriculum
Northern Walkers: Walking group that strolls down the Paul Bunyan Trail or the hallways depending  on the weather
We celebrate our location and outdoor spaces! With the main dining room patio that leads to the paved Paul Bunyan Trail to our several patios and a peace filled courtyard we have it made in the shade…and sunshine!
Our west patio features comfortable & cheerful outdoor seating and a calming landscape for gathering with neighbors, family & friends.
The Paul Bunyan Trail is paved and just steps away from our main dining room patio. It is a picturesque path for walking, running or strolling. It is accessible for those using walkers, wheelchairs & motorized scooters. Winter brings cross-country skiers and those hardy enough to hike through the neighboring Arboretum's groomed trails.
The Oriole patio looks out to the start of the Paul Bunyan Trail and in 2024 it will feature a new attempt at succulent and ornamental gardening.
Our Memory Care courtyard is a hidden gem in the center of our Memory Care wing. It features comfortable seating, colorful outdoor decor, raised bed flower & vegetable gardens, bird feeders and garden decor. If the weather is decent and it's daylight the courtyard is a popular place.
Intergenerational Connection
Ebenezer and Northern Lakes is proud to have Intergenerational Connections as one of our Cornerstones. Within this program we are committed to creating opportunities for our residents to connect with youth of all ages. This helps to bridge the generation gap, create learning opportunities for both the residents and children.
Examples Of Intergenerational Connections
Be A Pal penpal relationships
Hosting vocal, instrumental and drama recitals of local youth programs
Spa days that include pampering services from fun young adult volunteers
Walk to End Alzheimer's fundraising and events
Operation Christmas Child Shoebox Ministry
Experience the benefits of Pet Therapy!
We get so many likes on our Facebook page when we post Pet Therapy photos! Hanging out with animals can help people with symptoms of depression, anxiety, dementia, Alzheimer's, and more. Caring for a pet or interacting with animals can improve quality of life, provide emotional support, and help people through life transitions. Family pets are also welcome to visit!
Make a difference in your community!
Our activities include various fundraisers, Operation Christmas Child, and other opportunities to give back to our local community. These activities are designed to promote social engagement, a sense of purpose and foster a sense of belonging.
Northern Lakes has been a Godsend for my parents. My mom needs the added care and my dad can stay with her. The aides, caregivers and staff are so kind, caring, and professional. They provide such good care. The facility itself is beautiful, clean, and well maintained. It feels homey. 

Kathy
Northern Lakes is taking extreme care at keeping my mother safe, comfortable, and entertained. They have found a way to make personal visits, to continue the exercise routines and having the residents work out at their doorway. My mom sits in her doorway and plays bingo with those on her floor for prizes.

MBW
Contact Northern Lakes Senior Living!
Address
8186 Excelsior Road
Baxter, MN 56425
Get In Touch With Us
Fill out this contact form or give Angelique a call at 218-454-2121 for more information or to schedule a tour!