I'm Looking for Myself
Whether you are an active senior seeking an alternative to traditional homeownership or need some assistance with activities of daily living, Ebenezer has communities where you can continue to grow and thrive. Rest assured Ebenezer is here for you, every step of the way. We can help you navigate your options and find the fit that's best for you.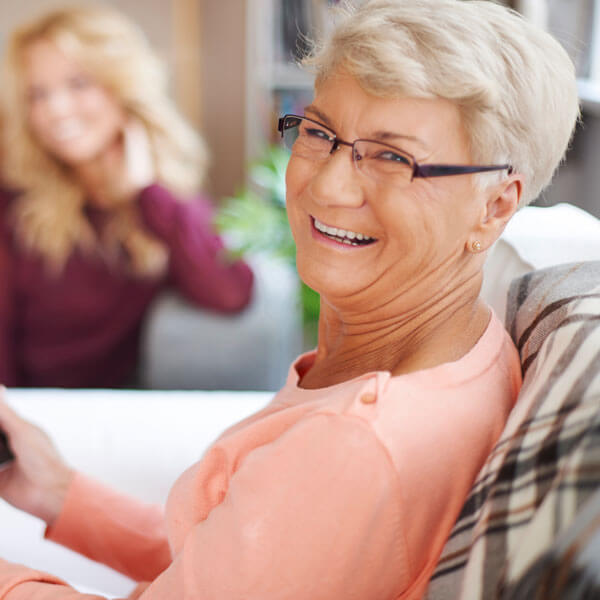 Your Title Goes Here
Your content goes here. Edit or remove this text inline or in the module Content settings. You can also style every aspect of this content in the module Design settings and even apply custom CSS to this text in the module Advanced settings.
How do I know what type of senior housing is right for me?
Choosing a senior living community can feel like a daunting task. To help narrow down your options, ask yourself these questions first:
WHAT TYPE OF SENIOR HOUSING DO I NEED?
Not all senior housing is the same. There are many options to consider depending on the level of care you need:
Independent Senior Living

 

– For those who want to live on their own. Includes independent living apartments, townhomes, condominiums or cooperative buildings designed for active adults age 55 and older. If you need a little extra help, you can contract services such as housekeeping, personal care or wellness.  
Assisted Living

 

– Offers a rental apartment for those who don't require complicated, full time medical assistance. You can continue living independently, but care is there when you need it through care attendants and nurses. Meals and light housekeeping are part of the package. 
Memory Care

 

– Includes special touches for those with memory loss, such as uniquely designed apartments, specialized programming and controlled exits to give you peace of mind knowing residents won't wander off the property. Caregivers are also specially trained to work with people with dementia, providing a higher, more personalized level of care and attention.
Enhanced Care

 

– Enhanced Care Suites provide 24-hour health care, within a homelike setting, for those needing advanced care within our senior living community–for short term or long term. Enhanced care includes three meals, housekeeping, and a package of care services designed specifically for your higher care needs.
Nursing Homes

 

– Offer high-level nursing care around the clock. Long-term care is provided for those who have serious or persistent health issues. There are also short-term care options – or transitional care – for those who need rehabilitation services after an illness or injury. Nursing homes are licensed healthcare facilities that are inspected and regulated by the state department of health.
Ebenezer is the largest senior housing provider in Minnesota and offers a wide variety of senior living options including active 55+, independent, assisted living, and memory care communities as well as those with higher needs such as enhanced care and care centers. We also offer short-term care options such as transitional care, stay by the day and adult day programs. Each is designed to help you live more independent, meaningful and secure lives. For additional help in determining which Ebenezer community is right for you, contact a community nearest to you.
WHAT HAPPENS IF I NEED ADVANCED CARE?
If your care changes, make sure your senior living community is equipped to handle your shifting needs. Can you easily move from assisted living to a nursing home? Is a hospital nearby if you need it? Can you keep your existing physician? Will your medical records easily be transferred?
Not only does Ebenezer offer all types of senior living communities, but we are also affiliated with Fairview Health Services. This means you have a wealth of resources at your disposal, from top-notch physicians to the latest in Alzheimer's research.  Each day we are working to improve the quality and safety of patient care, which is how Ebenezer and Fairview became pioneers in the secure transmission of electronic health records between nursing homes and hospitals. 
WHERE DO I WANT TO LIVE?
Moving into senior housing brings exciting changes, like choosing the exact area you want to live. Do you prefer the familiarity of your current location and want to find senior housing in your own community? Or, do you look forward to moving closer to loved ones who may live in a different area? Perhaps you are interested in experiencing a new neighborhood altogether? 
There are more than 100 Ebenezer independent living, assisted living, memory care and nursing homes in both urban and rural settings throughout Minnesota. Since 1917, we've been Minnesota's leader in senior housing, memory care and assisted living. For more than 100 years, our mission-based organization has been members of your community. Now, we invite you to be a part of ours.
Schedule a tour today to learn more about the vibrant senior living options at Ebenezer. 
Moving To a Senior Community: How to Get Ready When You're Not Ready!
Many older adults think about moving to a senior living community, or have had talks with their family members about moving, but often have the feeling that they are 'not ready.' At Ebenezer, we hear you. (We also hear "I don't know why I waited!" but that's another article.)
Just because you're not ready now, doesn't mean you can't work on getting things in order when or if you move. And even when you've taken care of the things below, it still doesn't mean you have to make a move. It's always best to be prepared.  So if you want to or have to make a move, you'll have the important pieces all ready to go.
Here are some ways that you can't get ready for senior living when you're not ready:
Visit Your Doctor: Hopefully, you are getting your regular check-ups with your primary physician, but if not, make an appointment. Have the doctor review your medication list to make sure the list is up to date and appropriate. Let him or her know that you are considering a move to senior living. If you end up needing to move to an assisted living setting, your doctor will have to sign off on orders. This can happen more quickly (and more smoothly) if you have recently seen your doctor and have had these discussions in person.
Research: You have 2 assignments here.

Research your senior living options. Think about where you want to live. In your home town?  Close to your kids? Tour a few communities and ask to come for lunch, and/or for your favorite activity to get a feel for what your life would be like if you lived there. Remember it's important to try the food. Talk to the other residents to get their perspective and what it was like for them to make the move and settle into their new home.
Research what your monthly and annual expenses are and get a good handle on what your monthly income and current assets are worth. When you start looking around at senior living communities, you might experience some sticker shock. But, when you take stock of all that is included (and what you are currently paying for utilities, home, and yard maintenance, groceries, home security, a life alert system, taxes, etc.) you will start to see the value.

Waiting Lists:

 

Depending on where you want to be, what type of apartment you want, and what service level you need (active 55+, senior living, assisted living, memory care or enhanced care) you may encounter long waiting lists. When you do your research and shop around, ask about waiting lists and get on a few of them. There's no guarantee something will be available for you when you are ready, but this gives you a little more priority and increases your odds of getting the apartment you want when you want or need it.
Paperwork: When you move to a senior living community and it comes time to sign a lease, you will likely need to identify a Power of Attorney and Health Care representative, and you may need to provide copies of the forms. Make sure you have quick access to your notarized Power of Attorney form and your Health Care Directive.
That's it! You may have noticed there is no 'to-do' item for the house. Even though getting the house ready, or needing to downsize, is a reason many people feel they're not ready for a move, a lot of times, when people make a transition, it's not because they've finished downsizing and their house is in perfect condition to sell. When you decide you're ready, you'll figure out quickly what to do with your house and your stuff. There are realtors and move managers who specialize in working with seniors who can make your move and the sale of your home a breeze!
We know it's not easy, and that's why we're here to help. Consider us a resource full of options to help you navigate different options available to you, even if it's not with one of our communities. 
4 Questions to Ask If You're Considering Senior Living
As we get older, many of us want to stay in our homes as long as possible. But at some point, you may find that moving to a more supportive living environment is the right thing to do. Whether you're living alone and wishing for some companionship day to day, or need more help getting going in the morning and to bed at night, or finding that you'd rather not cook for yourself or do other household chores anymore, we've got a full gamut of options for you to explore.
At Ebenezer, we've been the trusted leader in Minnesota and now Iowa senior living communities for more than 100 years. We have independent living apartments, assisted living, enhanced care, skilled nursing and memory care, and more. But, how do you know if it's time to make the move?
If you're starting to consider a move to a senior living community, here are some questions you may wish to ask yourself to determine if now is the right time.
Am I Lonely?
This is a hard question to ask yourself, but loneliness is very common among seniors living in their own homes, especially if one spouse has passed away. Honestly, living alone day after day isn't all it's cracked up to be. But it doesn't have to be that way. Our senior living communities are teeming with opportunities for socialization and fun activities. You might be surprised at how much living in a community of people will enrich your life.
Do Daily Activities Seem Like A Burden?
You may be just plain tired of cooking, doing the dishes or laundry and keeping the house as clean as you'd like it. Or you may find that tasks like dressing and bathing are a bit trickier now than they were when you were younger. Getting those buttons buttoned on your shirt can seem like an epic task, and you don't have to tell us how challenging it can be to put on your shoes some days. If you're nodding your head in agreement, it may be time to think about a senior community. We can help with all of that. When you move into senior living, much of that load is taken off your shoulders so you can relax and enjoy other elements of life.
Do I Spend Days Or Weeks Without Leaving Home?
This question is less about loneliness and more about mobility, the physical act of leaving home and getting somewhere, like the grocery store or a friend's house. Have you stopped driving (usually because your kids have suggested it)? Are you having trouble getting up and down the stairs to the street or your garage? Is walking much more difficult now? If it's too difficult to get around, and you find it's just easier to stay home, this is one big indicator that a move to a senior community can greatly enrich your life. There's a lot going on in our senior living communities, and we can help you enjoy all of it.
Have I Had A Health Scare?
Many times, moving to a senior community is precipitated by a health scare or, as your children may call it, a "teachable moment." If you've taken a fall at home, forgotten or been mixed up about your medications, been dizzy when sitting or standing, or if you have an ongoing health condition that will need to be monitored more than you can do yourself at home, you'll be more at ease in a community where everything is centered around your health and safety.
Making the choice to move into senior living isn't necessarily easy, but it's OK to admit to yourself and others that you've reached a point where you need more support. Think about how such a move might give you greater calm, confidence and optimism as you begin the next stage of life.
We at Ebenezer are here to answer all your questions, whether you're considering a senior apartment, assisted living or other accommodations. Learn more by contacting us.
Benefits of Making the Move
If you're a senior living in your own home, you may have thought about moving into a senior living community. At Ebenezer, our beautiful senior independent living communities include apartments, condos, patio townhomes or cooperative buildings designed to create a lifestyle of convenience and support for seniors. But, why should you move now, when you're getting along just fine on your own? There are many benefits to making the move to a senior living community before you need services like assisted living, skilled nursing or memory care.
NO MORE UPKEEP ON YOUR HOME
If you're tired of doing yard work in the summer and hauling out the snowblower day after day in the winter, moving into a senior living community takes that hassle away. There are no more worries about leaky roofs, water pipes bursting or any of the myriad problems homeowners deal with.
MOVING WHEN YOU'RE HEALTHY IS EASIER
For some seniors who wait to move until a life event like a fall or a hospitalization requires it, the whole process of selling your home and moving can be stressful. It's far easier to pack up and move before you need assistance with daily activities.
PEACE OF MIND FOR YOUR LOVED ONES
If your children are checking on you every day, worried about you falling or driving, or otherwise "mother hen-ing" your life, moving to a senior community takes that worry away from them. They'll know you're safe and supported. You'll be relieving them of sandwich generation stressors involved with taking care of their parents and children at the same time. Also, you'll be taking away the burden of caring for you in the future, when and if you do need more assistance with daily life.
PEACE OF MIND FOR YOU
It's about safety and security. As a senior living in your own home, there are multiple risks for you within your four walls. Falling is a big one. Senior living communities are designed with senior safety in mind. Also, in your own home, you're responsible for things like smoke and carbon monoxide detectors, fire extinguishers and other home safety equipment. In a senior community, that's all taken care of for you.
SERVICES TO HELP YOU STAY INDEPENDENT
Many of our senior living communities offer things like transportation to the grocery store and other shopping venues, and, depending on the building you choose, they may have onsite convenience stores, cafes, gift shops, pharmacies and salons.
PROGRAMS & ACTIVITIES FOR HEALTH, WELLNESS & FUN
If you've been living on your own, you'll be surprised at all of the activities and events for you to enjoy in our senior communities. Living here will enhance the quality of your life. One look at the monthly activity calendar for any of our communities will show you a packed agenda. You'll find health and fitness programs; outings for shopping and dining; Life Long Learning programs that center on the arts, horticulture and more; even happy hours at some locations. The whole idea is to enrich seniors' lives with socialization, learning, companionship, health and wellness, and more. Who says retirement has to be boring? At Ebenezer, your social calendar will be as full as you want it to be.
YOU'LL BE PART OF A COMMUNITY
We're a family here at Ebenezer, and there's always someone to talk to, play cards or take a walk with, and no shortage of people to enjoy events with. Not to mention our helpful, caring staff who you'll know by name in no time.
YOU'LL BE PLANNING FOR THE FUTURE
When you live in one of our independent senior communities, you can contract for services that can help you age in place without having to move when and if your need for more help and assistance increases. We work with Fairview Healthcare Services to provide skilled nursing services, help with daily living activities, physical therapy, medication management and more.
At Ebenezer, we have a wide range of beautiful independent living options across Minnesota and Iowa. Contact us for a tour of your new home today!
Settling into Your New Community
If you're in the process of deciding, or already have decided, to make the move to one of Ebenezer's senior communities, you have a whole new life of socialization, activities and companionship ahead of you. Still, moving from the home you've been in for a lifetime into a new apartment home, townhome or condo can be a big change for many of our residents, especially if they've been living alone. Here are some tips to successfully transition into your new home.
Take your most cherished items
If you're moving from a large home into an apartment or condo, we get it, you simply can't take everything. So you'll need to make choices. We recommend you take the pieces that will make you feel the most comfortable and at home. Along with the basics like bedroom and living room furniture, take cherished pieces — your favorite armchair, special artwork and accent pieces, and anything else that will make you feel at home.
Get out and mingle! 
One of the most powerful benefits of moving into a senior living community is the opportunity for companionship and socialization. You'll find that your community is teeming with people around your age who want to get to know you, guaranteed! Especially if new residents have been alone at home for years, getting out there and socializing doesn't come naturally. But take that step. Don't hole up in your new apartment, as beautiful and comfortable as it may be. Venture out into the common areas! Explore all of the various things in your building like a library, dining area, outdoor spaces, exercise rooms, dining rooms and more. You'll find plenty of people to talk to who are more than willing to strike up a conversation with you.
Participate in our programs
Ebenezer is famous for our programming for seniors. Take advantage of it! Not only will you enrich your life, you'll make new friends in the process. Our Ebenezer's Life Long Learning Initiative is a collection of coordinated arts and education programs designed to foster growth and creativity for seniors. Life Long Learning is the process of keeping your mind, body and spirit engaged — at any age — by actively pursuing knowledge and experience. Life Long Learning programs range from ceramics classes at the Northern Clay Center, music classes at MacPhail, visual arts classes, creative writing and more. Who knows? You might find a whole new second career in the arts! It's never too late!
Part of our Life Long Learning Initiative, our award-winning Horticultural program is one of Ebenezer's most popular. Our residents love to get their gardening on! You'll create seasonal fresh-cut floral arrangements, learn about transplanting and growing from seeds, cooking with produce you've grown and even attracting birds and butterflies! We also take garden- and nature-related excursions.
We also offer Everactive Exercise Classes at most of our sites. Exercise is crucial to you staying healthy and active, and we make it fun. Our Stay Active and Independent for Life (SAIL) group exercise classes include low to moderate aerobics, strength training, and flexibility and balance exercises that you can do seated or standing.
Take advantage of the activities in your community
In an Ebenezer community, there's always something happening. In all of our communities, you'll have opportunities to stay active, whether it's going to a farmer's market to taking in a sports game, joining a card club or book club, or listening to a guest speaker talk about timely topics. The options of things to do range widely to meet most every interest. 
Along with your safety and security, the benefits of increased socialization a senior living community brings to your life cannot be overstated. You'll go from living alone at home to living in a community filled with like-minded, friendly people. You'll make many new friends and enrich your life in ways you can't even imagine. 
At Ebenezer, we'll be happy to talk with you about all of the wonderful programs and activities we offer our residents. Contact us today, and start living your best life tomorrow.
Northern Lakes has been a Godsend for my parents. My mom needs the added care and my dad can stay with her. The aides, caregivers and staff are so kind, caring, and professional. They provide such good care. The facility itself is beautiful, clean, and well maintained. It feels homey. 

Kathy
Northern Lakes is taking extreme care at keeping my mother safe, comfortable, and entertained. They have found a way to make personal visits, to continue the exercise routines and having the residents work out at their doorway. My mom sits in her doorway and plays bingo with those on her floor for prizes.

MBW
Contact Northern Lakes Senior Living!
Address
8186 Excelsior Road
Baxter, MN 56425
Get In Touch With Us
Fill out this contact form or give Angelique a call at 218-454-2121 for more information or to schedule a tour!